With a history spanning over a century, rugby holds a significant presence in Italy, especially in the northern regions where most clubs are situated. Despite their endeavours, progression beyond the group stage in any of the Rugby World Cups has eluded them thus far. However, Italy's persistent efforts have cultivated a loyal fan base, and the sport continues to attract a growing multitude year after year.
In this article, I want to introduce you to some essential Italian rugby vocabulary, suitable for newcomers and experienced fans alike. From technical jargon to basic concepts, this guide will ensure you're always able to follow the game in Italian, even if it's not your first language.
What is "rugby" in Italian?
With the imminent arrival of the 2023 Rugby World Cup, you might be keen to refresh your Italian rugby vocabulary, and what better way to begin than with the word itself.
The Italian word for rugby is, quite simply, rugby. The only real difference lies in the pronunciation of the two words: whereas English speakers pronounce the "u" as an [ʌ], Italians substitute it with either an [a] or an [ɛ]. To get a true sense of how a native speaker says the word, take a moment to listen to the audio clip provided below.
Below are some useful Italian rugby phrases you can use before, during and after a match with your amici (friends). Be sure to listen to the pronunciation a few times so you can imitate how a native speaker would say them.
Dove posso guardare la partita fra l'Italia e il Galles?
Where can I watch the match between Italy and Wales?
---
Quale squadra vincerà, secondo te?
Which team do you think will win?
---
Qual è il punteggio?
What's the score?
---
Bravi, ragazzi! Avanti così!
Well done, boys! Keep it up!
---
If you want to learn all the different ways to cheer someone on in Italian, be sure to check out our dedicated article!
---
The Most Important Italian Rugby Terms
Here, I've compiled a list of crucial Italian rugby terms that will prove essential for your enjoyment while watching a game in italiano. Each term is paired with an audio file to assist you in refining your pronunciation.
meta
try

A meta (plural: mete) is earned by grounding the ball within the in-goal area, resulting in five points during union matches and four points during league matches, followed by a conversion kick for an additional two points.
---
trasformazione
conversion

A trasformazione (plural: trasformazioni) signifies the scoring chance that ensues after a successful try. Once the ball is grounded within the in-goal area, the team has the opportunity to kick the ball through the goalposts and over the crossbar, resulting in an extra two points. The conversion must be taken from a perpendicular line that intersects the try line where the try was scored.
---
squadra
team

A squadra (plural: squadre) consists of fifteen players, with eight forwards and seven backs. The Italian team is known as Gli Azzurri (the Blues).
---
campo da rugby
rugby pitch

A rugby pitch is a field that measures 100 meters in length and 70 meters in width. It is referred to in plural as "campi da rugby"
---
punizione
penalty

"Punizioni" (penalties) are given out for notable infractions like offside positions, dangerous play, or handling the ball on the ground during a ruck. A penalty kick is termed a "calcio di punizione" or "calcio piazzato."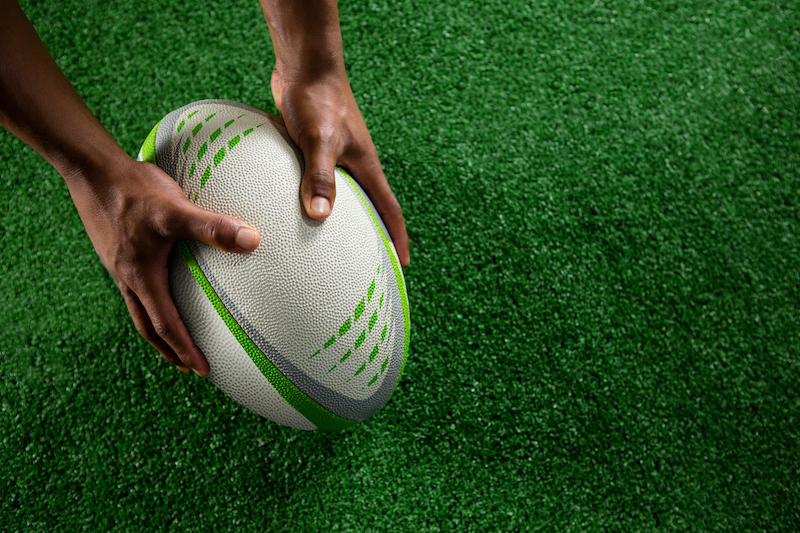 drop
drop goal

A drop (plural: drop), valued at three points, is accomplished when a player kicks the ball from their hand through the opposing team's goal posts. However, prior to the kick, the ball must make contact with the ground after being dropped.
---
placcaggio
tackle

A placcaggio (plural: placcaggi) takes place when one or more opposing players, referred to as placcatori (tacklers), grab hold of the ball carrier and bring them down to the ground, holding them there to impede their advancement.
---
ruck
ruck

In Italian, a ruck remains a ruck (plural: ruck). This denotes a game phase that occurs when one or more players from each team, standing upright, engage in contact over the ball.
---
calcio
kick

A calcio (plural: calci) is pretty self-explanatory. There are different kinds of kicks in rugby including a calcio di punizione (penalty kick), calcio di rimbalzo (drop kick) and calcio libero (free kick).
---
vincere / perdere
to win / to lose

The team that scores the highest number of points is the winner of the match.
palla / pallone da rugby
rugby ball

A palla da rugby (plural: palle da rugby) weighs approximately 400 grams and is characterised by its oval shape with four panels.
---
passaggio
pass

A pass is where the ball is thrown from one player to another and can only be flat or backwards in rugby. Some different kinds of passaggi (passes) in rugby include passaggio col piede (kick pass), passaggio a giro (spin pass) and passaggio in avanti (forward pass).

---
stadio
stadium

The home venue of the Italian national rugby union is currently the Stadio Olimpico, just north of Rome. It has a capacity of just over 70,000.
---
vantaggio
advantage

Vantaggio (plural: vantaggi) is a regulation that grants the non-offending team the ability to continue playing following an infringement. Rather than abruptly halting the game, the referee signals vantaggio and permits the non-offending team to carry on momentarily.

---
arbitro
referee

Arbitri (referees) follow a game or match closely to ensure that the rules are adhered to.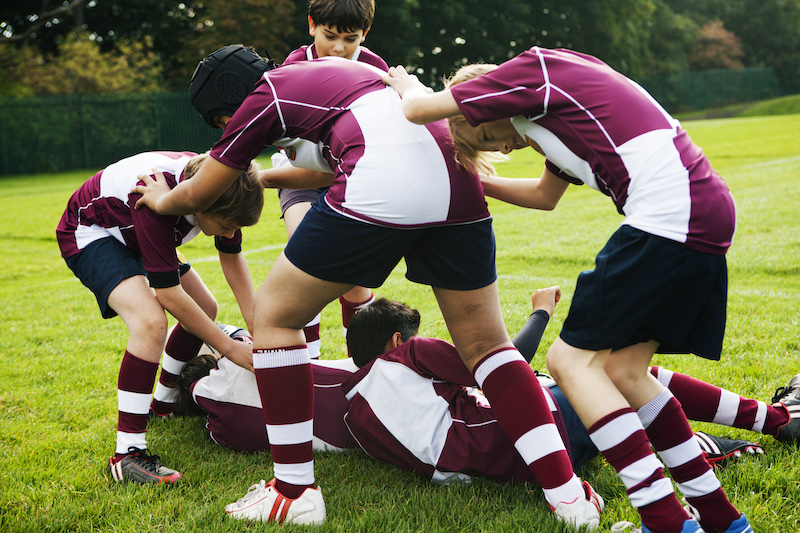 capitano
captain

The capitano (plural: capitani) is a player, leader, communicator, decision-maker, and important link between team and coach.
---
partita
game / match

Each partita (plural: partite) lasts 80 minutes. A home game is called a partita in casa whereas Uomo Partita is Man of the Match.
---
Rugby a 15
Rugby Union

The official name of the sport rugby / rugby.
---
commentatore
commentator

Commentatori (commentators) describe what's happening during the match and offer their opinions to listeners and viewers. They're also known as presentatori, telecronisti (on the TV) or radiocronisti (on the radio).

---
allenatore
coach

Allenatori (coaches) foster the development of players' actions, behaviours, preparation, and fitness, simultaneously enhancing their awareness, creativity, resilience, and decision-making abilities.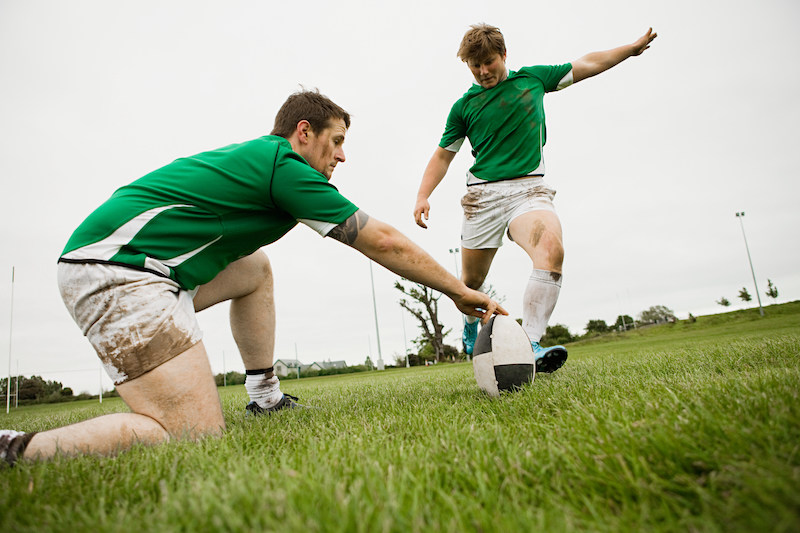 fuorigioco
offside

According to offside regulations, a player is prohibited from gaining any advantage by being positioned ahead of the ball.
---
cambio di possesso
turnover

In rugby, a cambio di possesso occurs when ball possession shifts from the attacking team to the defending team.
---
possesso
possession

The possession of a ball is known as possesso (plural: possessi) in Italian.
---
mischia (ordinata)
scrum

A mischia (plural: mischie) or mischia ordinata involves players packing closely together with their heads down in an attempt to gain possession of the ball. A scrum takes place after a forward pass or a knock on.

---
ferita
injury

Serious ferite (injuries) often occur in the game of rugby, such as commozioni cerebrali (concussions).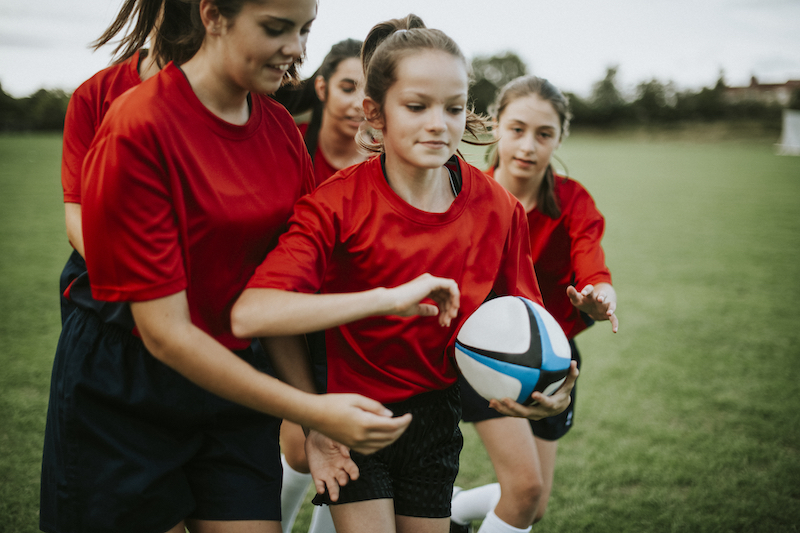 punto d'incontro
breakdown

This term refers to the short period of open play immediately after a tackle and before and during the ensuing ruck. 
---
mark
mark

In rugby, a player has the opportunity to "mark" the ball, signifying that they are allowed to catch it without the risk of being tackled by opposing players. The player who marks the ball is allowed to take a free-kick from the marked position. A mark may only be called if you are catching the ball within your own 22
---
cartellino rosso / giallo
yellow / red card

A referee shows a cartellino giallo (plural: cartellini gialli) to a player being cautioned. A cartellino rosso (plural: cartellini rossi) is shown to a player who is being sent off the pitch.


---
giocatore
player

In rugby union, a team is composed of fifteen giocatori (players): eight in the tight scrum and seven spread out on the field known as backs.
---
maul
maul

A maul (plural: maul) starts when a player with the ball is held off the ground by opponents and teammates join to form a group with at least three players, all standing. This includes the ball carrier and one player from each team.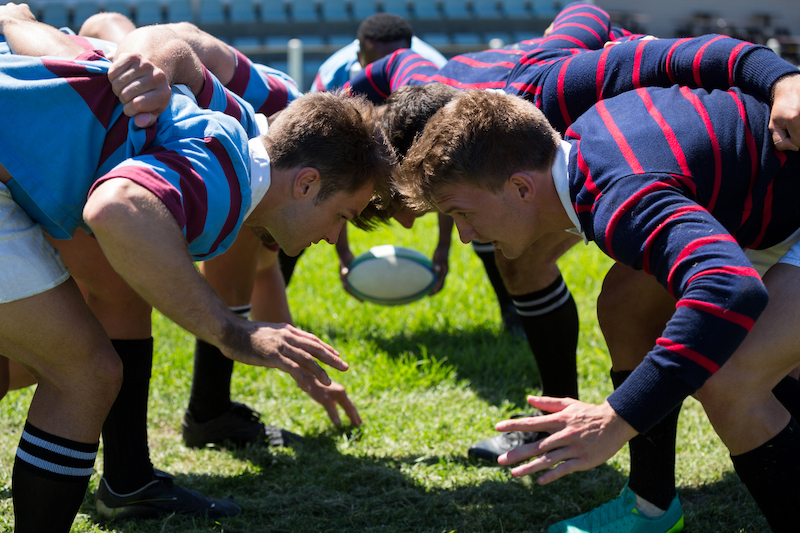 Rugby Positions in Italian
pilone sinistro = loose-head prop
tallonatore = hooker
pilone destro = tight-head prop
seconda linea = second row
terza linea ala (lato chiuso) = blindside flanker
terza centro = number 8
terza linea ala (lato aperto) = openside flanker
mediano di mischia = scrum-half
mediano d'apertura = outside-half / fly-half
tre quarti ala (a sinistra) = left winger
tre quarti ala (a destra) = right winger
tre quarti centro = inside centre
tre quarti centro = outside centre
estremo = full-back

---
Rugby Tournaments in Italian
Here are the two most important rugby tournaments in which Italy takes part.
Coppa del Mondo di Rugby (Rugby World Cup): The Coppa del Mondo di Rugby is the pinnacle of international rugby competition. Held ever four years, it features teams from around the world competing for the prestigious Webb Ellis Cup.
Il Sei Nazioni (The Six Nations Championship): An annual tournament featuring six European nations – England, France, Ireland, Italy, Scotland, and Wales. It is one of the oldest and most prestigious rugby competitions.
---
Sources:
Il Dizionario del Rugby
Rugby Union Universal Dictionary of Rugby Terms
Rugby Ground Guide