On this page, we've compiled a list of our favourite resources for learning Italian, as well as those that have been repeatedly recommended to us by teachers and students of the language.
Please note that this page is in a constant state of development, so we encourage you to come back every once in a while to see if there's something new! And of course, do let us know if you have any recommendations to share.
Ethics statement: The following resources were either recommended to us by students and teachers we know, or they are part of our personal collection. We were not asked to write anything about these products, nor were we provided with any sort of compensation. Within the article, there are affiliate links. If you buy something after clicking the link, we will receive a small commission. To know more about our ethics, you can visit our full disclosure page. Thank you!
---
Italian Language Books
Soluzioni is a reliable reference book that explains everything you need to know about Italian grammar, with exercises to practise and check your understanding. Because it is more advanced than many Italian grammar books, it may be off-putting for beginners or lower intermediate students.
---
A Reference Grammar of Modern Italian is a fantastic reference for those wishing to learn the finer points of Italian. It isn't the kind of book that you read, but rather the your go-to source for authoritative answers. It is best to start using this book once you reach an intermediate level of Italian.
---
501 Italian Verbs introduces you to 501 useful verbs, along with how to conjugate them in 14 tenses. Example sentences are provided to put the verbs into context. The conjugations are explained at the front of the book, so that you always know which one to use.
---
Essential Italian Grammar is a clearly written manual that presents all the Italian you will need to survive everyday life and contemporary situations. We would recommend using it as a supplement to a course, as an introduction, or as a refresher if you've already studied some Italian.
---
---
Complete Italian is the perfect resource for beginners learning Italian grammar for the first time or higher level students wishing to brush up. The verb list verb table in particular is very handy. A must-have companion to classroom learning.
---
Italian Grammar – Concise & Clearly Explained is a fantastic one-stop handbook for those interested in learning or brushing up on their Italian grammar. It has been written with English learners in mind, without the long-winded grammatical explanations found in other books. A must-have for true Italophiles!
Purchase on Amazon.com | Amazon.co.uk (affiliate links)
Our friend Serena Capilli is an Italian teacher who writes short stories and audio books in plain Italian optimised for English speakers. Each book revolves around an Italian city or region and is designed to help beginner / intermediate students better understand the diversity of Italy, while improving their Italian with the help of simplified texts and audio. All books also include flashcards and slow audio.
Purchase on Amazon.com | Amazon.co.uk (affiliate links)
As an Amazon Associate I earn from qualifying purchases.
---
Italian Language Apps
Rocket Italian (affiliate link) is one of the most highly rated online Italian courses around. It teaches not only the vernacular that natives actually speak but also the pronunciation, which you can compare to your own thanks to the course's advanced software.
Black Friday Deal: Get 60% Off All Courses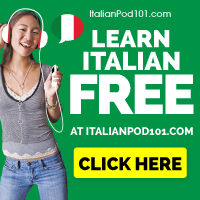 Another highly recommended course is ItalianPod101 (affiliate link), an innovative and fun way of learning Italian at your own pace. It consists of free daily podcast audio lessons, video lessons, a premium learning center, and active community. You can try out their Premium 7-Day Free Trial to see if it's the right course for you!

Black Friday Deal: Get 51% Off Basic, Premium and Premium Plus
italki (affiliate link) is a fantastic language learning platform that connects learners with teachers across the globe for 1-to-1 online video lessons. You can use the platform to practise your conversation skills, improve your grammar, or even learn a completely new language. Check out our full review here.
If you love reading in Italian, and want to improve your vocabulary, LingQ (affiliate link) is the perfect tool for you. Upload articles, ebooks, blog posts and more to the app, and as you read, you can look up unknown words with the touch of a finger, save them, and study them later on. Check out our full review of LingQ here!
Anki is an advanced flashcard app that aids the memorisation of vocabulary and phrases. In addition to words, you can also embed images, videos, and audio on your cards. It is free for desktop and Android users, whereas iPhone users must pay a one-time fee. Check out our full review here.
Lingopie (affiliate link) is a language learning application that uses real TV shows and movies to help you learn a new language. You can choose a show to watch based on your fluency level, and use the interactive subtitles to get instant translations to help you learn quickly.

Black Friday Sale: 58% off full price
---
Italian Movies
Here are a few of our favourite Italian movies of all time. We love them so much that we watch them at least one per year, if not more! By watching them with subtitles, you will be able to improve your comprehension, get a sense of how Italians actually speak in day-to-day life, and learn the correct pronunciation.

Il Postino (The Postman) tells the story of Mario, a bumbling mailman who's madly in love with the most beautiful woman in town. With the help of world-famous poet Pablo Neruda, he finds the right words to win his beloved's heart! This unforgettably funny comedy proves that passion, with some artful deception, can win the most improbable love!


Nuovo Cinema Paradiso (Cinema Paradiso) tells the story of Salvatore, a film director, who returns home for the funeral of Alfredo, the projectionist at the local cinema throughout his childhood. Soon memories of his first love affair and all the highs and lows that shaped his life come flooding back, as Salvatore reconnects with the community he left 30 years earlier.


La Vita è Bella (Life is Beautiful) is the story of a Jewish family that gets separated and taken to a concentration camp. The father Guido convinces his young son Giosue that the camp is merely a game in order to shield him from the horrors of his surroundings.